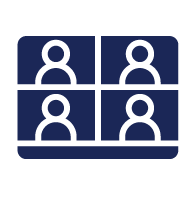 Back in 2022!
SIMA Webinars
Each 1-hour webinar is free, but registration is required. All webinars will take place at noon EST.
September 8
Captive Insurance 101
with Adam Miholic, Hylant Global Captive Solutions
Will Allen, Green Industry Captive

Captive insurance is an emerging solution for companies to manage risk in a model that's different from traditional insurance coverage. Successful captive insurance may include:

-Greater control in claims management
-The ability to lower escalating insurance premium costs
-Sharing of profits among group captive participants.

However, captive insurance is not a one-size-fits-all method for obtaining needed coverage. In this web program, SIMA will provide an overview on captive insurance to help you gain an understanding if captive insurance could be an option for your business.
November 9
Job Safety Analysis for Snow Operations
Speaker TBD
How safe are your winter operations? Using a job safety analysis, snow professionals can identify potential hazards and recommend the safest way to do the job. This analysis can also be used to document processes to solidify standard operating procedures and be used to assess other areas of your business for maximum efficiency.