Are you covered?
Snow & ice management is a risky business.
SIMA has you covered with training, resources and insurance connections.
Find the right coverage
Connect with insurance providers
SIMA has cultivated relationships with several insurance providers who understand the intricacies of snow and ice management. Our Insurance Marketplace web space provides contact information to help you seek a provider who get it.
Get informed
Educate to mitigate risk
When it comes to managing your risk, there's no such thing as having too much information.
SIMA has built several resources that allow you to deepen your knowledge on this complex subject: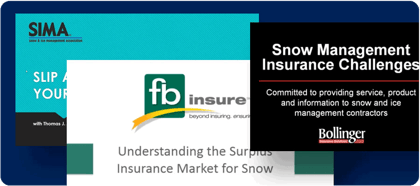 Study online
Several courses on managing insurance and risk are available at Train.sima.org, designed to help cover all the key questions and challenges snow removal contractors face when dealing with legal issues and slip and fall liability.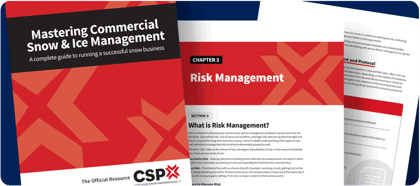 Read the book
Mastering Commercial Snow & Ice Management - A Complete Guide to Managing a Successful Snow Business contains an entire chapter on risk management and proper documentation best practices.
Understand terminology
The Snow Industry Standard Glossary of Terms is available to anyone who wants to ensure they are using appropriate wording and definitions related to snow and ice management.
Align with best practices
The SIMA Best Practices Checklist is a useful tool for auditing your snow business/operation across many areas, including basic insurance and risk management.
Insurance complexities
Any company performing snow and ice management services must purchase proper insurance, which can be difficult (and expensive) given the volatile, high-risk nature of the industry. Common insurance protections snow and ice management companies will need include:
Commercial General Liability (CGL)
This critical insurance (usually required by your customers) will reimburse you or your customers for damage to their property or for injury to people on their premises after you have performed your work; damage to premises that you rent, etc.
Commercial Auto
This insurance coverage protects you against loss from damage to your vehicles and damage caused to others while using the vehicle for driving and as equipment to perform your work.
Property
This insurance and various endorsements (e.g., equipment breakdown, crime, business interruption, etc.) is for buildings and personal business property that does not leave the premises.
Inland Marine
This insurance is for computers, communications equipment and property that leaves the premises. It should include items that, in the aggregate, would be expensive to replace but may not be worth insuring individually.
Workers' Compensation
This policy covers costs incurred due to employee workplace injury, including an employee's lost income.
Umbrella
This policy adds additional liability protection for general liability, auto liability and some miscellaneous types of liability. It is usually purchased in "layers" of $1 million. An umbrella policy is typically required for larger contracts and some aggregators.
Beyond the basics
As your business grows, you'll want to consider additional policies or endorsements(e.g., cyber crime, employer's practices, environmental, etc.)that will protect you and your company in the event of such a loss.
Key endorsements for snow contractors
Hold harmless and indemnification provisions have become the means by which liability is transferred from the property owner to the snow and ice contractor. Obtaining key endorsements (additions to the insurance policy) properly transfers liability and finances the risk of snow and ice services:
Additional Insured
Allows a person or organization to be insured under an insurance policy (i.e. contractor additionally insures the client), in addition to whomever originally purchased the insurance policy. The most common additional insured endorsements in the snow and ice industry are CG2010 (includes coverage for ongoing operations) and CG2037 (includes coverage for completed operations). Most snow contracts require both endorsements.
Snowplow Completed Operations
An unendorsed general liability policy specifically excludes bodily injury or property damage arising out of the ownership, maintenance, use or entrustment to others of any aircraft, auto or watercraft. Your insurance carrier may deny coverage as a result of bodily injury that arises from these activities. The CG2292 Snow Plow Completed Operations endorsement provides coverage for an auto used for snow plowing.
Primary/Noncontributory Wording
Protects the financial resources (and insurance limits) of the property owner or general contractor from the contractor's individual or joint negligence that causes injury or damage to a third party. Primary = your insurance policy will pay first in the event of a claim. Non-contributory = your policy will pay the full amount of the claim until limits are exhausted without your client contributing to the loss with their own insurance.