SIMA Board of Directors
The Board of Directors is comprised of general and supplier members who are snow and ice industry professionals. The Board is responsible for setting SIMA's strategic direction.
We answer to membership
Dedicated to enhancing the value of your membership while also furthering the professionalism of the industry, they work tirelessly to build a better SIMA. Contact them if you have questions or concerns.
Interested in being on the Board of Directors?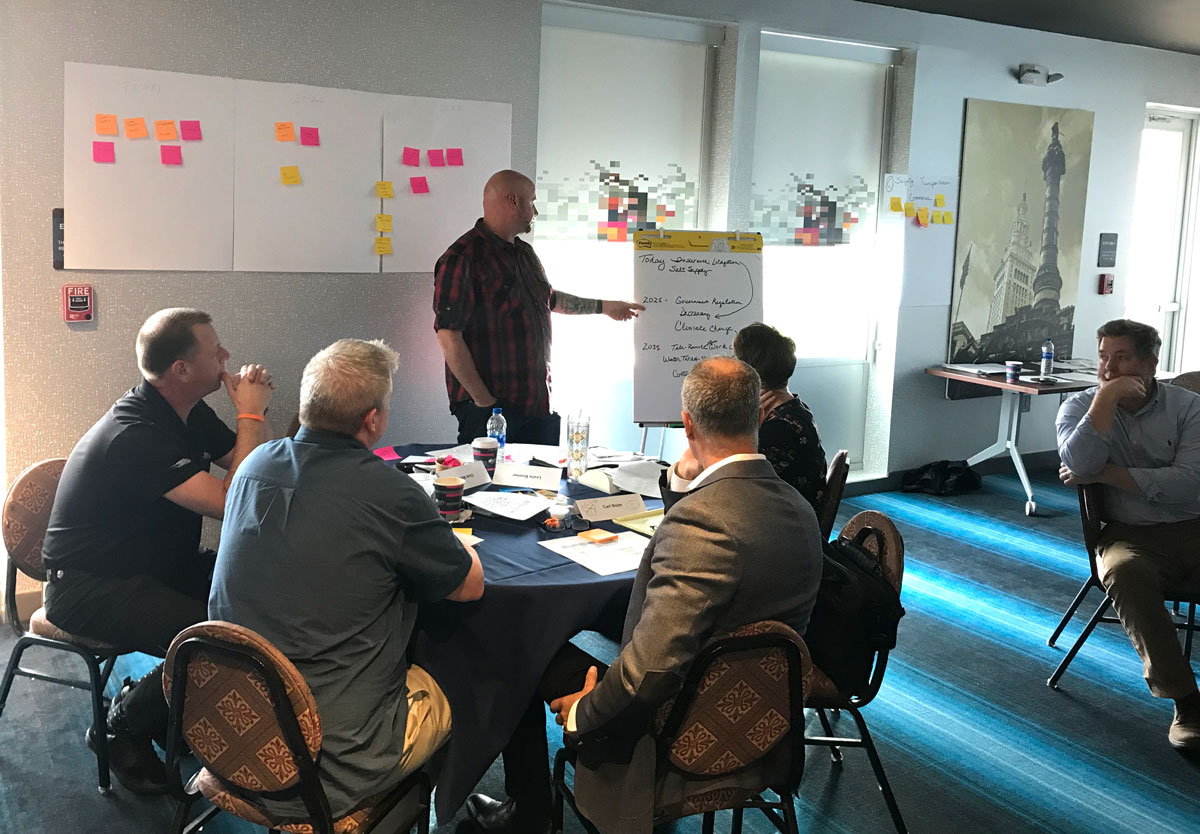 Mark Arthofer, CSP
Chair
Mark Arthofer, CSP is the President of Skyline Construction located in Dubuque, IA. In addition to commercial snow and ice management services, Skyline Construction provides a variety of exterior services such as lawn care, concrete installation, power washing, trucking and parking lot cleaning. Skyline has been a SIMA member since 2012, with Mark achieving his CSP designation in 2016.
Jon Crandall, CSP
Immediate Past Chair
Jonathan Crandall, CSP is the Chief Visionary of JC Grounds Management, a commercial landscaping and snow removal management company in Danvers, MA. Jon started the company in high school mowing neighborhood lawns. As the years went on, the company evolved as commercial only and snow service focused.
David Wescott, CSP
Vice Chair
David Wescott is CEO of Transblue LLC. In the construction industry for over 20 years he brings a wealth of knowledge and experience to the forefront of the business. David has a background in insurance, facility management, land development, and real estate. Transblue Provides General Contracting and Snow Services throughout North America. David is committed to giving back to community and noble causes.
Chris Hinton, CSP
Secretary/Treasurer
Chris Hinton, CSP, is the Director of Operations for GRM Inc. located in West Kelowna, BC. GRM Inc. provides Snow and Ice control management services to clients throughout Western Canada, and also offers full exterior property maintenance services including landscaping, asphalt, concrete, and line marking. Prior to joining GRM in 2014, Chris enjoyed a successful career working in the Golf Industry as a Club Pro in the beautiful Okanagan Valley.
Debora Babin Katz
Director
Debora Babin Katz is vice president of TrucBrush Corporation in Easton, MA. As a member of SIMA since 2005, she is passionate about the snow service industry. A graduate of Babson College, Debora is an entrepreneur, published writer and an expert in business development and marketing. In 2015, she received the SIMA Volunteer Award for ten years of commitment to the organization including chairing the editorial advisory committee of Snow Business Magazine.
John Janes, CSP, ASM
Director
John Janes, CSP, ASM is the marketing and sales support manager for the Building Construction Products division of Caterpillar, Inc. He joined Caterpillar in May 2006. Prior to joining Caterpillar he was an associate partner in the global services division of IBM. He has held engineering and cost accounting positions at A.T. Kearney and KMPG. He is an ardent supporter of Habitat for Humanity and averages 200 volunteer hours per year with his local affiliate.
Ruben Diaz Jr., ASM
Director
Ruben Diaz Jr. is one of the three founders of Diaz Group LLC. He possesses extensive education in business and landscape management from Northeastern Illinois University and Joliet Junior College. His knowledge of the trade has played a key role in the company's expansion. Ruben's role in the company is to strategically grow and maintain strong business relationships.
Danny Milligan, ASM
Director
Danny Milligan is the founder of Strathmore Landscape Management, one of Canada's largest landscaping management companies. Strathmore Garden Centre was originally started in 1963 by his father Elmer Milligan, and Danny entered the business in 1971. Over the years Strathmore has evolved from a garden centre to landscape construction and finally since 1997 Strathmore, commercial grounds management.
Connie Gaul, ASM
Director
Connie Gaul, ASM, is the Director of Operations at BrightView Enterprise Solutions located in New Albany, OH. BrightView is one of the leading national aggregates for landscape and snow removal services in the United States. She joined BrightView in 2013 and has held several roles which include progressive leadership positions within operations for BES. Prior to getting involved in the industry she taught middle school mathematics for 10 years in Southern California. Connie is currently working on her CSP.
Patrick Kane, CSP
Director
Patrick Kane, CSP has been the president of Evercor since founding the company with his brother Frank (as Evergreen Landscaping Services) in 1995. Under his leadership, Evercor Facility Management has become one of the largest privately owned self-performing facility maintenance firms in the Northeast region.
Kane has a passion for philanthropy and contributes to numerous causes, nonprofits, and other charitable organizations in the communities in which Evercor and its subsidiaries operate. One of the proudest moments of his career was the launch of the Evercor Foundation, an organization designed to support children and veterans through funding, material, and labor donations.
Above all else, Patrick values the relationships he's built. He gets to work with his brother and childhood best friend every day, as well as the rest of the Evercor team which he considers extended family. He has been an active member of SIMA for 16 years, and was honored to be named CEO of the Year by the organization in 2019.
William Moore, CSP, ASM
Director
William Moore, CSP, ASM, ASCA-C, LIC is the President and CEO of Executive Property Maintenance for the last 20 Years. He is passionate about the sno industry, improving it and delepoing and forging culture, standards, with his team and clients. He has taken Executive Property Maintenance to another level by implementing processes and procedures and obtaining the ISO 9001 / SN9001 Standard for snow.
In 2001 He was SIMAS Snow Executive of the year, 2022 Medium Size Business of the year, MGIA Member of the Year, along with many other personal and company accolades. He loves giving back to the community. He is a Vice Chair of the Michigan Green Industry Association, Director of the Plymouth Historical Society/ Museum, Editorial committee Member for Snow Business magazine, contributor to Lawn and landscape Magazine, Snow Business and the landscuplter Magazine. He loves a challenge and seeing his team succeed.
Jeff Heller, CSP
Director
Jeff Heller, CSP is the President of Innovative Maintenance Solutions based in Indianapolis, IN.

Jeff has been a member of SIMA since 2005 and holds a Master of Business Administration degree in Operations Management from Northern Illinois University. He has served in many capacities in the snow and ice industry over the past two decades. Jeff is an inaugural member
of the SIMA Foundation Board of Directors and is currently serving as the vice chairperson.
In addition, Jeff has been a presenter at SIMA Symposiums as well as having served on several SIMA committees. He is also active in mentoring new members of SIMA.