DON'T DO IT ALONE.
The snow industry shows up, no matter the task. Our members are first responders, clearing snow for clients at all hours to ensure the safety of their communities. Showing up with SIMA is the start to strengthening your business and our industry. Active members of SIMA make connections, amplify their brand, and build stronger teams when they utilize our training. Get started by leveraging our resources to safely meet your clients' needs and elevate the professionalism of the industry.
GET STARTED
Training Help | Upcoming Events | Best Practices | Contracts & Forms
Professional Snow Management
Need to hire a service provider for your facility?
The snow and ice management industry provides an essential service for the safety of your property, your employees and your customers. So choosing the right provider is key. You can lean on SIMA to help connect you to qualified snow management professionals.
Seek out professionals
Source professional, reliable snow contractors who have the commitment and resources to get it done on time and on budget. Use our directory to find snow providers in your service area.
Be an educated buyer
Snow is a difficult service to purchase, and there are a number of pitfalls to avoid. Not to worry - resources are available to help you become more adept at navigating the challenges.

Align with standards
SIMA's Standard Practice for Procuring & Planning Snow Services is designed to keep sites open, reduce environmental impact and manage the threat of slip and falls.
A membership that fits
We have hundreds of resources that your entire team can utilize. It's all part of a membership that fits — for you.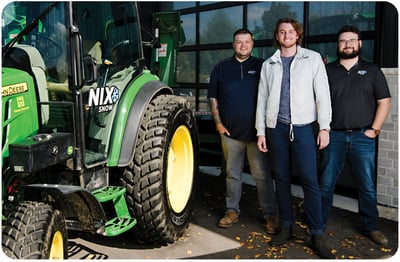 Snow Business magazine
Home-grown vision
Nix Snow finds residential is the place to be in Canada
TOOLS: Software and weather tools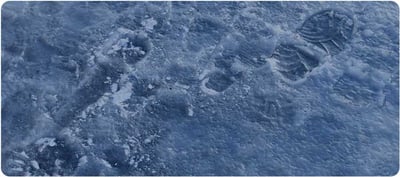 Risk Management
Protect your company
Obtaining insurance for your snow business can be tough … and expensive. Connecting with insurance providers, understanding complex contract language and endorsements, and leveraging best practices for risk management and documentation will be the keys to success.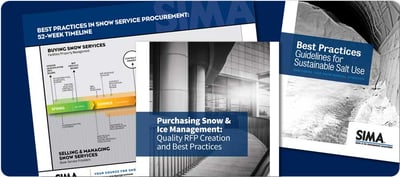 Best Practices
Creating common ground
SIMA's long-term vision is to create common ground among all commercial snow management stakeholders using best practices. From better RFP practices, to sustainable salt management, to snow planning and operations, we offer these practices to help connect, educate and benchmark.
Sustainable Salt
Salt use and the environment
Environmentally conscious snow management requires commitment, education and collaboration. To get this done, we need snow contractors, their customers and subject matter experts to work together for a common cause.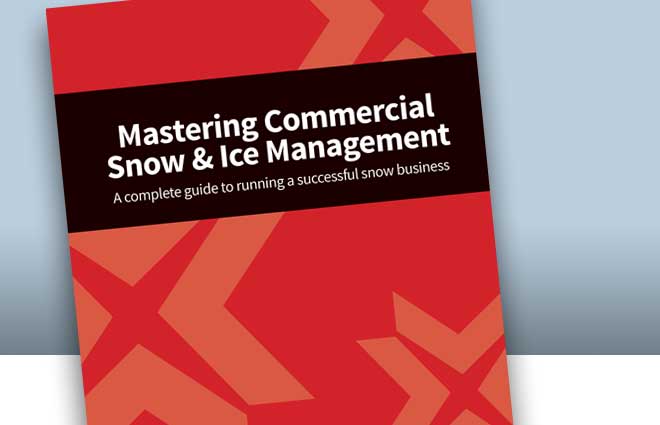 Mastering Commercial
Snow & Ice Management
This book tackles all the pitfalls, challenges, opportunities and trends in commercial snow management. It's an essential resource for running a successful snow business.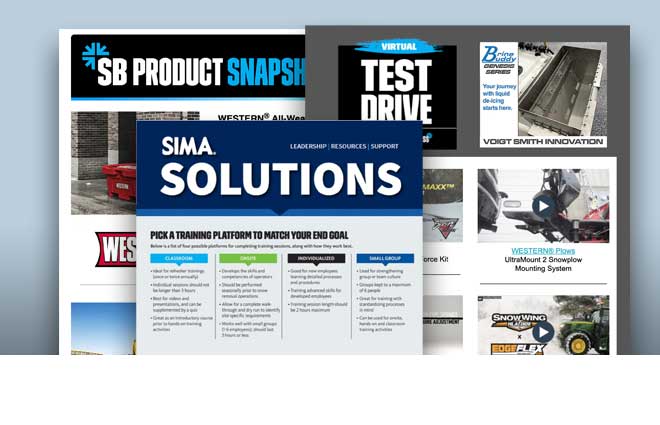 Stay in the Loop
We keep thousands of snow professionals informed of industry products, events and resources. Get on our email list so you don't miss out!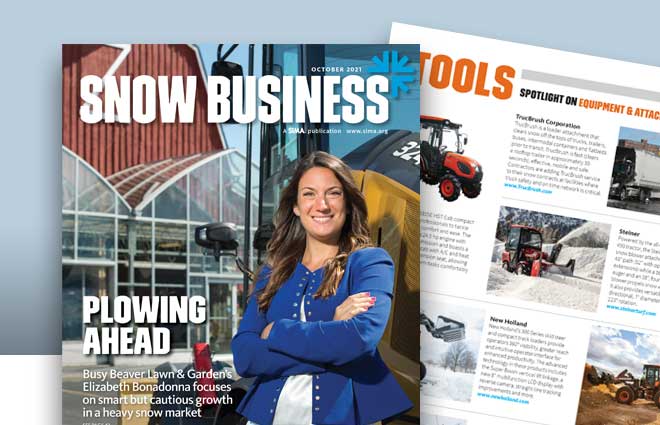 Subscribe to Snow Business
Start or renew your magazine and newsletter subscriptions online, anytime.
SIMA Membership
SIMA is here to help you grow & connect

Connect with clients
Members are listed in our online directory and can leverage extensive marketing materials and the SIMA member logo to gain a competitive edge.
Develop your workforce
Our Training Center is filled with members-only courses, snow-focused credentials, templates and more — all designed to improve safety and training.
Grow your peer network
Connect with a network of over 1,600 snow contractors and industry suppliers — a game-changer in how you learn and grow in the industry.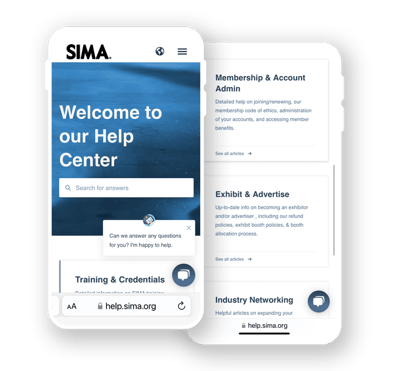 Find answers
SIMA Help Center
We strive to provide good customer service, but there may be times when a quick click can get you the help you need. Use our self-service Help Center to get answers! Find frequently asked questions, submit a support ticket, and review our policies.